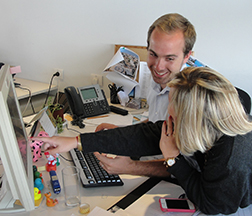 The Peres Center offers exciting, challenging and hands-on internships and volunteer opportunities. If you are looking to gain real insight and experience into the operation and activities of Israel's leading non-profit organization promoting peacebuilding between Israelis and Palestinians, Jews and Arabs, then the Peres Center is the place for you!
The Peres Center welcomes enthusiastic, motivated interns and volunteers to work with our staff and project managers on a wide variety of projects and activities. Unpaid internships and volunteer positions are designed to provide you with a hands-on experience in non-profit work and therefore we ensure your involvement in significant projects and activities directly affecting the work of the Peres Center.

To apply for an internship or volunteer placement, please send your CV / résumé: volunteer@peres-center.org. Please address the following points in your email: time frame available, area of interest and languages spoken by filling our application form. To download it please click here. We will contact you as soon as possible and do our best to accommodate your availability and skills with our needs. Thank you for your interest.