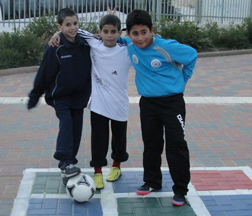 28th January 2013
90 Jewish and Arab kids aged 8 – 12 from Ein Rafa, Abu Gosh, and Kiryat Gat met up again to play football, learn each other's language and build friendships.
The teams have been meeting for three years now, but a few new players joined the team. One of these was Aviel from Kiryat Gat, who said "It's the first time that I've played with Arab children. I never though it would be so easy! I learned lots of new names – and I remember them all!"
We want to thank 888, who gave them the opportunity to continue playing together.