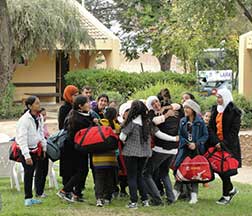 13th -14th December 2012

80 girls aged 7-14 from Jericho and Yata in the West Bank and Kiryat Gat in Israel attended a 2-day training camp in Kibbutz Galon.

The girls enjoyed not only a football camp, inter-language learning and cultural activities, but also a unique tournament run in partnership with the Peres Center for Peace and the German organization KICKFAIR. The tournament, entitled Kick for Understanding, Play for Peace, took place both in Israel during the training camp and simultaneously in a similar tournament in Ostfildern, Germany.

The girls were excited to talk face to face with their friends in Germany and to be exposed to sporting activities outside of Israel-Palestine.

For more information see the facebook page that was created for the event: https://www.facebook.com/peacetournament2012.