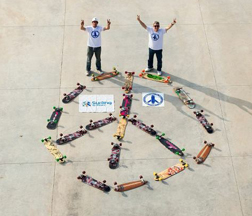 10th February 2013
We are thrilled to herald the return of the hugely successful longboarding for peace activity that took place last summer.
30 children from Jaffa gathered for an afternoon of longboarding and fun at the Peres Peace House, run in cooperation with our partner the Cherner Community Center. The children received professional training from leading skaters and surfers in Israel, as well as taking part in teambuilding activities.

We are planning to open an Arab-Jewish youth group in the coming months that will take part in further longboarding activities as part of the Longboarding for Peace organization.

The project is run in partnership with Surfing for Peace and the Concrete Wave magazine.