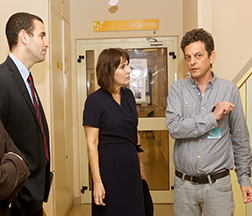 December 8, 2013
This past month, Netherlands Foreign Trade and Cooperation Development Minister, Lillian Plumen, together with her delegation, paid a visit to Sheba Medical Center at Tel Hashomer. The Minister met with hospital representatives in addition to representatives from the Peres Center for Peace, and was impressed by the various projects put on by the Center in collaboration with the hospital in the fields of health and medicine.

The project "Saving Children" assists Palestinian children in need of complicated and life-saving procedures that are not yet available in the Palestinian Authority to obtain treatment in Israeli hospitals, chiefly at the Lily and Edmund Safra Children's Hospital at Sheba.

The meeting was also attended by a Palestinian doctor taking part in the "Training Doctors" program. He shared his experience as a participant in the project, which enables Palestinian doctors to integrate into the staff of Israeli hospitals and gain invaluable medical experience that they are then able to bring back to their home communities. He shared that residents such as himself become an integral part of the department and medical staff, dedicatedly treat the diverse array of patients, and ultimately return to the Palestinian medical system as specialized doctors.

The meeting was followed by a tour of the children's wing of the hospital, and the desire of both parties to keep in touch in the future.