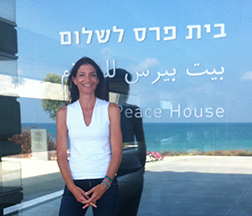 November 5, 2013

Michal Schechter has been working at the Peres Center for Peace for two and a half years as a project manager at the Community and Leadership department. As part of her role of managing projects in the fields of culture and the arts, she has been an instrumental part of the Frames of Reality program.
"This project is designed to bring together Palestinian and Israeli photojournalists to participate in a unique educational endeavor that changes perceptions," explains Michal. The project was founded in 2009 in cooperation with Local Testimony. "The program provides each side with an opportunity to view the reality in which they live through the eyes of 'the other.'"
The Frames of Reality project brings together Israeli and Palestinian photojournalists and documentary photographers to participate in a distinct joint-creative process revolving around personal and professional dialogue. Participants express their own experiences and knowledge, all in an open and safe environment.
"During this process, participants are given the opportunity to share their work, experience, and expertise with one another, thereby laying the foundations for creative and professional relationships," explains Michal. "Personal and professional relationships are created, and some of them even last long after the program is over."
Four cycles of the program have been completed, including over 62 participants. Each cycle is comprised of 15 workshops, where professional instruction, dialogue and hands-on activities are created, and also includes a symposium led by an international guest lecturer (for example - French-Iranian MAGNUM photographer Abbas, whose presentation at the Peres Peace House attracted over 200 guests). The project culminates in the creation of a joint, tri-lingual photography book as well as a final public exhibition. Past exhibitions have been held in art galleries in Jaffa and at the Peres Peace House and attracted many guests and famous names from the art and photography industry.
"There were many moments and even days that moved me, taught me and filled my heart while working on this project," explains Michal, citing her newfound exposure to the world of photography. She describes the last session of the previous Frames of Reality cycle, when the participants gathered to summarize their projects and prepare for the final exhibition: "The atmosphere was very joyous and unique; there was a feeling of solidarity, friendship, joint achievement and mutual anticipation for the upcoming events. One of the participants was late, and we were all disappointed because we thought he will not make it. Just before the first coffee break, he arrived with a huge tray of 'Knafe,' a delicious Palestinian sweet straight from Bethlehem. We were all very happy to see him; we put aside the cookies and indulged together in this great treat. It was one of those simple and special moments of joy and camaraderie that is not obvious in our daily lives."

Michal is looking forward to running the project annually, and being a part of the meaningful and inspiring in process. The success of the Peres Center's many programs is due to the passion and hard work of people like Michal, who dedicate themselves tirelessly and wholeheartedly to the project at hand.
This short video is a proof of how photography can break down barriers and link people together - click here to watch.