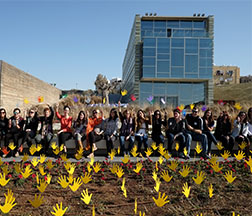 January 16, 2014

This month, hands were planted in the Peace Garden at the Peres Center for Peace in Jaffa in collaboration with the "One Million Hands for a Peace Agreement" campaign, whose goal is to enlist a million hands vocalizing their support for negotiations between the Israelis and the Palestinians, and insisting upon a solution to the conflict.
Many participants, Arab and Jewish, arrived at the Center to plant hands and create an impressive and dynamic installation in the Peace Garden.
The colorful installation remains in the Peace Garden, a public "green" space serving the community, and represents another stepping stone on the path to peace between the two peoples.
Click here for more pictures.