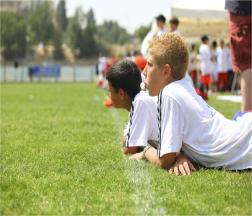 April 21-25, 2013
Some 320 Israeli, Palestinian, Jewish and Arab boys from four Twinned Peace Soccer Schools participated in the Mini Mondial Preliminaries. The highlight of the Twinned Peace Soccer Schools each year is the Mini World Cup tournament.
The boys were very excited to take part in the preliminaries as based on their finishing position in the ladder; the teams make it to the final matches at the Mini World Cup. Accordingly, the boys take the preliminaries very seriously and enjoyed a great day of competition and football!
The winning teams are very excited about the upcoming Mini World Cup which is due to take place next month.