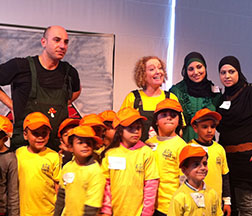 30th November 2012
Two performances of the New Beginnings coexistence play were held last week for children in kindergartens in Jaffa. The 5 year old children attend a bilingual kindergarten and so were able to fully understand the entire play, which is performed in both Arabic and Hebrew.
The kids were very excited to have a play performed in their school, and fully cooperated with the actors, who passed on messages of coexistence and equality.
The performances were the first in this year's cycle - with 40 more plays to be performed throughout the school year for children aged 5-7 from all over the country.