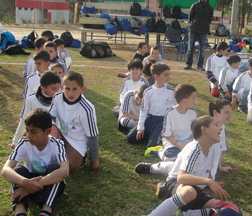 29th January
We are proud to announce the launch of a new Twinned Peace Sports School consisting of 80 boys aged 7-11 from Nablus in the West Bank and Sha'ar Hanegev in the South of Israel.
The Palestinian children from Nablus made the long journey to Sderot to meet their new twinned team. Despite the fact that it was only the first meeting between the children, the kids played together with huge enthusiasm and energy – in mixed teams of course, and it was difficult to tell which kid was from which area. During the activity two of the children were even excited to discover that they shared the same name – Amir.
The successful day ended with an emotional concluding activity at which the kids said they couldn't wait till the next meeting.
A huge thank you to FIFA – football for hope and adidas who are making sure that the children will be able to meet each other throughout the year.
See the Sports at the Peres Center for Peace facebook page for the full album.