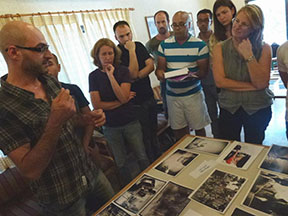 The fourth cycle of Frames of Reality is well underway, with 7 Israeli and 7 Palestinian photojournalists undergoing a series of workshops and lectures together. During the year the participants will meet 7 times for two-day sessions where they learn from professional photojournalists and documentary photographers, as well as learning to work together and from each other.
The first session took place on the 17th of June at "Talitha Kumi" a guest house in Beit Jalla, during which the participants were introduced to each other and to staff members, and learnt about the aims, structure and materials of the project.
The next meeting will be held on the 21st and 22nd of October, during which 2 days of intense work are scheduled with an international photographer who will work with each photographer on his project and give them personal and professional feedback. The workshops will include a lecture about his photography work at the Peres Peace House that will be open to the public.