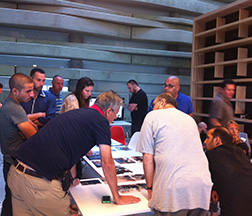 21st October 2012
The Israeli and Palestinian participants of the Frames of Reality project undertook a workshop lef by renowned 'magnum' photographer Abbas at the Peres Peace House. Abbas is an Iranian photographer who emigrated to France in his youth, and has dedicated his photographic work mianly to the political and social coverage of developing southern nations, as well as wars and revolutions. Since 1970, his major work, published in world magazines, includes photographic essays from Biafra, Bangladesh, Ulster, Vietnam, the Middle East, Chile, Cuba, and South Africa .

During the workshop Abbas carried out a 'reading' of the photographic stories created by each participant, gave his comments, and led a brainstorming session regarding their projects. The participants hugely appreciated the opportunity to hear feedback and receive advice from such a leading and experienced photographer.

The day culminated in a fascinating lecture on Abbas's work at the Peres Peace House that was open to the public and generated great interest with over 250 guests packing out the auditorium. We would like to say a big thank you to Abbas for ensuring that both the workshop and the lecture were such huge successes.