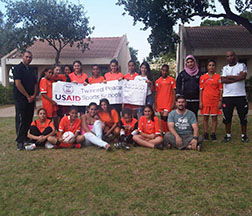 15th October 2012
Approximately 60-70 Israeli and Palestinian girls participated in a 2-day camp in Kibbutz Galon as part of the USAID Twinned Peace Football Schools for Peace program, the first of four which are to be held this winter.

During the camp the 14-18 year old girls from Jericho, Beit Hanina and Kiryat Gat got to know each other by playing group games, learning about the principles of fair play in sports , learning about each other's languages and cultures, and of course, playing football!
They also had plenty of time to socialize with each other, and during the evening participated in the unique '11 Women' workshop, which uses the stories of 11 special women - amongst them Tami Hay, the Director of the Peres Center's Sport Department and Mili Lugasi and Amira Muhammad Sulaiman Fahidat, two participants of our Twinned Peace Football Schools - io educate youngters about the empowering impact of sport and the importance of women and girls' participation in sport. As part of this program the girls received an empowering talk from one of our female coaches from Jericho who talked about her personal experiences as a female involved in sports.
We are very much looking forward to the remaining camps, and hope they are as successful!