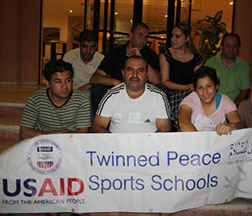 16th Sept 2012
As a fulfillment of one of the goals of the USAID Twinned Peace Soccer Schools program (TPSS) for girls, Palestinian coaches from Yatta, Jericho, Zbedat and East Jerusalem participated in a professional training seminar in the Jericho Village Resort Hotel on September 14-16. The TPSS program aims to increase training for Palestinian coaches in particular, based on the recognition that they have had less opportunities for high-level professional training in comparison with their Israeli colleagues.

Time was divided between a series of theoretical sessions held indoors, and outdoor practical soccer training at local soccer grounds. The theory covered topics such as first aid, discipline, childrens' needs, including girls in particular, and general soccer training skills. The outdoor practical training sessions were used to put the theory learned into practice, with a focus on how to achieve a successful soccer course for the young female program beneficiaries and how to help each girl develop and improve her skills and confidence, within a mixed ability context. Furthermore, efforts were made to impart knowledge and skills needed for training at the more challenging asphalt soccer grounds, a reality for all our Palestinian uninational soccer activities.

A significant personality in the seminar was the coaches' instructor, a renowned former soccer player, coach, and soccer education specialist from Jordan who the coaches felt "spoke [their]...language and understood [their]…culture", and was affectionately called "Captain" by the coaches. He managed to achieve a real sense of togetherness, support and companionship among all the coaches, regardless of their individual backgrounds and abilities.

There was unanimously positive feedback from the coaches, our staff and our Palestinian partners, who all expressed the opinion that the seminar would be an excellent start to the second year of the project, one which would see stronger and more sustained commitment. Special thanks goes to the Anwar Zeidan, our Sport Department Palestinian Field Coordinator, as well as to our Jericho-based partner organisation (The Palestine Center for Conflict Resolution and Development of Youth Capabilities), for its support in prior thinking, planning and logistics. In addition, thanks goes to our other Palestinian partners for their attendance, participation and support.