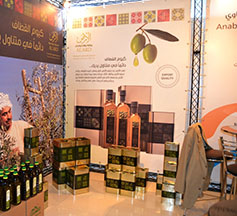 20th Sept 2012
As part of the Private Sector Partnership project, the Peres Center, in cooperation with the Nazareth Chamber of Commerce, conducted a Palestinian Products Exhibition in Nazareth at the beginning of Septermber, which aimed to engage Palestinians and Israelis to advance the mutual interests of both sides, resulting in win-win solutions for both economies.
Throughout the exhibition over 40 Palestinian companies exhibited high quality foods, furniture, cosmetics and other various products. More than 1,000 visitors arrived daily to the exhibition, toured the premises, and engaged in conversations with the exhibitors. Several businesspeople also initiated direct business and B2B meetings as a more intimate forum of dialogue and work, with the hope of better utilizing each other's potential and capacities in their industries.
The Private Sector Partnership project, funded by the Norwegian Ministry of Foreign Affairs, aims to enhance Palestinian-Israeli business cooperation while simultaneously increasing the capacities of the Palestinian private sector and raising awareness amongst Israeli companies and the general public of the benefits to be gained from cross-border trade with Palestinian companies.

By incorporating such events within the framework of the Private Sector Partnership project, Palestinian and Israeli businesspeople from parallel sectors are brought together and introduced to markets on the "other side." These shared experiences enable concrete exchanges which help to strengthen Palestinian business capacities and establish prosperous business partnerships that are beneficial to both Israelis and Palestinians.