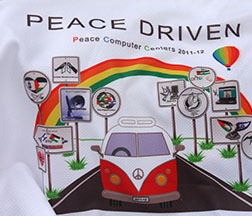 June 2012
The 2011-12 cycle of the Peace Computer Centers project concluded with a full day activity at the zoo for all the young participants to come together and meet face to face after a year where they had communicated with each other online. The youth, educators, peace education instructors and project coordinators enjoyed a day in the sunshine, participating in a variety of activities that used the skills and knowledge they had learned throughout the year, including naming all the animals in the zoo in both Hebrew and Arabic, writing and sharing greeting cards to each other in Hebrew and Arabic, and concluded with a summary discussion where they shared their final experiences of the project.
Throughout the school year, youth aged 13-16 from 12 communities across Israel and the West Bank participated in regular online discussions and forums. The Peace Computer Centers peace educational virtual program uses computers and internet to teach values of tolerance, coexistence and understanding. Meetings took place in schools once a week, exposing youth to the culture and narrative of "the other". The youth connected and exchanged opinions and thoughts through a closed social network platform for the project

Using a specially designed website, the youth discussed a range of topics, ranging from their daily lives and personal interests to the differences between the Israeli and Palestinian historical narratives, the Palestinian Nakba and Israeli independence, and generally chatted and had open discussions through which they got to know each other better.
In addition to the meeting at the zoo, the project involved three joint face-to-face activities that took place in Wahat al-Salam/Neve Shalom/Oasis of Peace and brought together between 70-80 participants from 3-4 groups. The activities were focused on getting to know all of the participants on the one hand, but on the other, also on personal and deeper interaction between the youngsters.
Please click here for a unique presentation comprised of still pictures taken at one of the joint activities and that reflects the dynamics of the encounter.
The Peace Computer Centers project is kindly supported by Eni S.p.A.