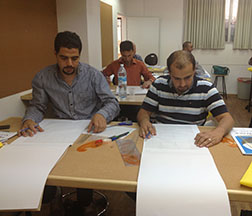 17th October 2012
The first session of two courses for Palestinian designers from the handicrafts and textile sectors took place at Shenkar College as part of the Private Sector Partnership project funded by the Norwegian Embassy in Israel; and the Partners in Business, Partners in Peace project funded by the European Union. The two courses are held at Shenkar College, one of Israel's leading design schools which places an emphasis on practical learning and industry.
The session was attended by 20 participants from the textile and handicrafts sectors, who were introduced to the lecturers and staff, and after a short welcome assembly immediately embarked on the academic program. The textile class will gain knowledge of Pattern Design, Quality Control and Quality Checks (protocols of QC by Israeli, American and European standards), and the handicrafts class will gain knowledge of 3D design, including 3D CAD software course followed with introduction to 3D outputs methods – imaging (computer-paper printer output), laser cutting, and stereo lithography (3D printing), among other topics.
Both courses offer the participants a comprehensive and tailor-made design course, which encompasses instruction in the latest techniques of design, production, and materials. The courses consist of a combination of theoretical lectures on modern design techniques as well as practical hands-on design studio work, and embed the use of latest techniques, materials and brands in the relevant Israeli industry and market. The course will run once a week over a 12-week period.

As a result of this activity, Palestinian textile designers are expected to gain new skills and knowledge that will enable their companies to diversify their products and to meet the ever changing needs of the markets. The trainees will not only increase their knowledge about the textile and fashion trends in the Israeli and global markets, but will also have an opportunity to network with leading Israeli designers and representatives from Israeli fashion institutions and the business industry.

The Palestinian handicrafts trainees are expected to gain knowledge about the developments of the industry, specifically new design technologies, which they can then incorporate into the design and production process in their companies. The Palestinian companies will be able to produce according to the trends of the Israeli, regional and global markets and will be exposed to new networks and contacts in the industry.

This important activity aims to enhance Palestinian-Israeli business cooperation, while simultaneously increasing the capacities of the Palestinian private sector and raising awareness amongst Israeli companies and the general public of the benefits to be gained from cross-border trade with Palestinian companies.