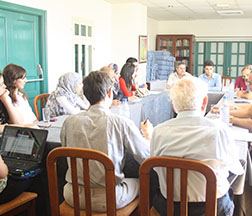 As part of our Regional Water Research Program, graduate students and researchers from Al-Quds University and the Technion Institute of Technology met in Cyprus on September 19-22 to present the results attained thus far from an experimental study exploring methods of removing pharmaceuticals from wastewater.

With treated wastewater providing an essential water source for irrigation in arid regions like the Middle East, this Israeli-Palestinian research addresses a shared regional concern that standard sewage treatment does not succeed in removing many pharmaceutical compounds present in wastewater. This regional research program is meant to expand upon the limited existing knowledge of treatment methods for pharmaceuticals by exploring a range of removal methods, ensuring cleaner and safer water - a goal towards which it is truly worth working together.
At the meeting, students discussed their research findings on removing pharmaceutical compounds through application of advanced membranes, new trapping methods and biodegradation processes. This first gathering of the program provided the first opportunity for the program participants to meet one another and discuss their experimental progress in person. Discussions ensued on how to improve treatment methods, combine treatment stages and integrate more bridges of cooperation between the Technion and Al-Quds researchers, as they continue to work from their respective facilities. All in all, the enthusiasm and openness of the participating researchers and students resulted in a fruitful and thought-provoking meeting, and we look forward to many more future meetings for the joint research team as the program progresses.

This workshop and the two-year research program are generously sponsored by SANOFI, the international pharmaceutical company.