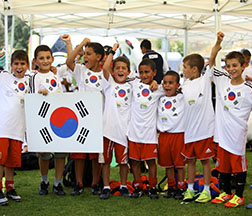 The annual highlight of the Twinned Peace Sports Schools project, the Mini World Cup (Mondial) tournament, took place recently in Jerusalem. Mixed teams of over 200 Palestinian and Israeli boys, Jewish and Arab alike, represented countries from around the world in this friendly competition. This year's event was extra special as the boys had the opportunity to meet the President of the State of Israel, and founder of the Peres Center for Peace, Mr. Shimon Peres. Two boys presented the President with a framed Twinned Peace Sports School T-shirt and team shield and had the opportunity to present themselves and what it means to them to be part of the project.
The President addressed the young boys and wished them success and determination to keep participating in peacbuilding activities and keep being open to getting to know each other. The tournament, which was divided into age divisions was won by Poland in the 6-7 year olds, Italy in the 8-10 year olds and Spain in the 11-12 year olds.
After exhausting themselves the boys took to the sidelines to watching their coaches joined by players from the Israeli Betar Yerushalaim soccer team, play in a game against the "Artists Team" comprised of a group of Israeli celebrities. The Peace Team (the coaches and Betar players) won the match and made the young boys proud, setting the example that peace triumphs!
The Peres Center would like to sincerely thank the sponsors and supporters of this special day - The Embassy of the Republic of Poland in Tel Aviv, The Jafora Company, adidas and Mr. Ice, and to thank Betar Yerushalaim for their partnership in the event, which took place at their home stadium. Click here to look at photos from the event.