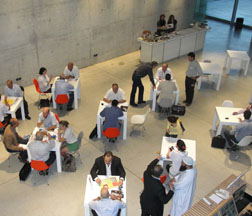 The Peres Center is very excited to have launched a new project that fosters business ties between Israeli and Palestinian business people in the handicrafts, garment and textiles, and food sectors. The project involves a variety of activities including a series of tailored, professional capacity building courses for representatives of Palestinian companies at leading Israeli institutions, according to three areas of business: design, packaging and logistics, and marketing. Business-to-business (B2B) meetings in Israel in which representatives from parallel Israeli and Palestinian sectors will be brought together to network and meet with potential business partners; and Palestinian companies participation in leading Israeli exhibitions which provide both a forum for networking with Israel's leading companies as well as introducing Palestinian companies and products to the Israeli consumer. Alongside all of these activities, a public relations campaign will be conducted to maximize the market entry potential of Palestinian products and their producers and to introduce the Israeli public on the reality and potential of cross-border business cooperation; and the "bottom line," economic benefits of buying Palestinian products.
Economics is an integral pillar in the Middle East peace process. Cross-border business ties today send signals that cooperation is not only possible, but beneficial. Furthermore, economic relations will be one of the areas which will test the actuality of a future peace agreement. However the disparities between Israel and Palestine pose serious challenges for Palestinian development as well as cross-border trade. The extreme dependency of the Palestinian economy on the Israeli market, coupled with the relative accessibility of Israeli technical and business experience makes cross-border economic relations a vital pillar for Palestinian development. Israel, as a major importer of global goods, also stands to gain from stronger relations with its neighbor. Accordingly, this project seeks to encourage Palestinian-Israeli business cooperation, increase the trade capacities of the Palestinian private sector, and promote a more trade-enabling environment based on mutual benefit, understanding, and trust.
This project is supported by the European Union Partnership for Peace Program and run in cooperation with a Palestinian partner.