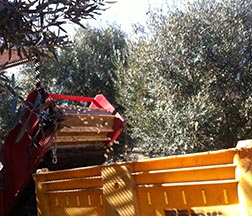 December 19, 2013
Some 30 farmers, advisors, and suppliers working in the olive oil production industry, both Jewish and Arab, Israeli and Palestinian, met this month and visited a number of locations throughout Northern Israel as part of the "Olive Oil Without Borders" project.
Representatives from the Near East Foundation (NEF), Palestinian Center for Agricultural Research and Development (PCARD), staff from the Business and Environment Department at the Peres Center for Peace, and the head of the USAID, which supports the project, also attended the encounter, which began with a visit at Simkha Halperin's olive farm in Sde Ya'akov.
In the grove, the participants met one another and received comprehensive information regarding projects common to the farmers as well as stakeholders and suppliers, Jewish and Arab, Israeli and Palestinian. They picked olives using the advanced picking machine as well as by hand, in addition to tasting a variety of delicious, locally produced products.
The second stop was Saba Habib's olive press at Kibbutz Farrod. The program participants witnessed the process of manufacturing olive oil, received a short explanation on the history of the place as well as how it functions today from a business perspective. The management of the press received the diverse group with a delicious meal replete with handmade Galilean delicacies, including local cheeses, baked goods, and, of course, olives and olive oil.
The day's excursions concluded at the official offices of the International Olive Oil Council (IOOC) located in Hanania Farm, where the participants received a detailed explanation on the workings of the olive oil industry throughout the entire region.
This encounter contributes to the ongoing spirited and fruitful cooperation between the participants of the project and continues to lay further groundwork in the field of regional olive oil production.