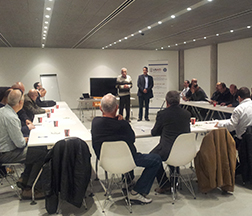 March 11th, 2014

This month, the Peres Center for Peace hosted a workshop for experts in the fields of branding and marketing as part of the Olive Oil Without Borders project, funded by USAID.
Our partner organizations, the Near East Foundation and PCARD, together with participants consisting of Israeli and Palestinian business leaders and olive oil experts, discussed current developments in global branding and how a future cross-border marketing plan should be promoted.

The day began with opening remarks and updates to address the crowd and continued with a round-table discussion, where recent developments in the field were discussed. Following the round-tables, the participants were updated about local and global trends in the olive oil sector.

The day concluded with a joint lunch at the Peres Peace House.

Participants expressed how impressed they were with the seminar, taking advantage of the opportunity to meet with Israeli and Palestinian counterparts while learning about all the local and global innovations in the olive oil sector.