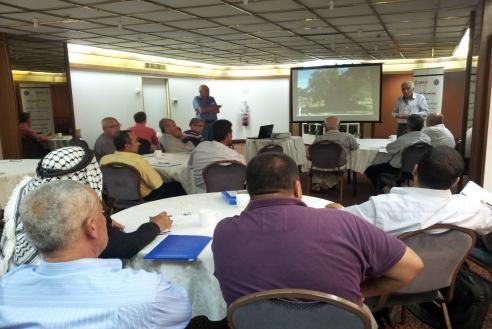 June 10-12, 2013
Some 20 Israeli and Palestinian agriculturists and olive press owners participated in a 3-day workshop as part of the Peres Center's Olive Oil without Borders project.
The workshop focused on the production and improvement of quality of Israeli and Palestinian olive oil.
Mr. Salah Abu Aisha, the Managing Director of the Near East Foundation in the Palestinian Authority and Jordan opened the workshop with an introduction that addressed the importance of cooperation between Israelis and Palestinians.

The workshop included short lectures by Israeli and Palestinian experts, among them Professor Shimon Lavi from the Vulcani Institute, who is considered one of the most famous olive oil experts in the world; Dr. Nimrod Israeli, the founder of "Biofeed" and a biologist specializing in pest control of the Olive Fly; Dr. Fathi Abd Elhadi from Tel Hai Academic College, an agronomist and olive specialist, and Mr. Par's Jabi, a Palestinian olive oil expert.

Participants provided very positive feedback on the workshop, finding it extremely interesting and informative.

This project is run in cooperation with the Near East Foundation and is supported by the USAID.