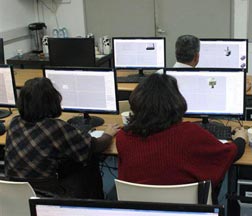 8th March 2013
Celebrating Women on International Women's Day
One of the participants of the capacity building workshops for Palestinian designers at Shenkar College received some great news when she was accepted to Shenkar's prestigious external studies program.
The talented young lady from East Jerusalem, together with 35 other Palestinian designers from the textile and handicraft sectors, recently concluded a 12-week workshop at leading Israeli design college Shenkar. The courses offered the participants a comprehensive and tailor-made design course, which encompassed instruction in the latest techniques of design, production, and materials, in their relative industries.


6 remarkable women took part in this unique activity (surely not enough in our opinion, and yet a rather extraordinary percentage given the statistics in the industry). It was a great delight to learn that following this activity, one of the highly accomplished women (an East-Jerusalemite young lady) applied to the Shenkar external studies program – and was accepted!
We wish all the designers the best of luck with their continued studies and work, and encourage other women to courageously pursue their dreams.
The program is part of the "Partners in Business, Partners in Peace: Increasing Capacities for Israeli-Palestinian Business Cooperation" project, funded by the European Union and the Norwegian Embassy.