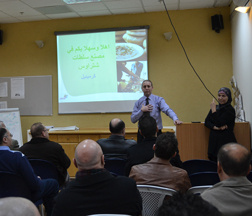 27th January 2013
A group of representatives from Palestinian companies in the food sector participated in a day of tours and discussions aimed at enhancing Israeli-Palestinian trade. The day focused on the transfer of goods from the West Bank to Israel and the practicalities of implementing standards and best practices in work processes. The participants were taken on a tour of the Jalameh Crossing in Jenin, a main point for the transfer of goods, and a tour of the Strauss salad factory in Carmiel.

The tour took place as a follow up to a seminar that was held in Jerusalem last August (as part of the Private Partnerships program funded by the Norwegian Ministry of Foreign Affairs), which aimed to familiarize Palestinian companies in the food industry with standards and procedures in Israel. The seminar in Jerusalem was attended by representatives of 20 West Bank companies from the food industry, who felt that they had gained invaluable knowledge on trading with Israel but wanted to learn how to put what they had learned into practice. As a result, the Peres Center, together with our Palestinian partners and the project's donors the Norwegian Ministry of Foreign Affairs, conceived of and implemented the follow up tours as an ad-hoc response to the needs on the ground.

The Palestinian participants, together with representatives from the Palestinian Standards Institute, Palestinian Ministry of Finance and more, met in the morning with the Israelis at the Jalameh border crossing. The tour was led by the commander of the crossing and a representative of the agricultural branch of the civil administration, who explained the process that goods (especially food products) have to undergo to get through the Jalameh Crossing into Israel.

The group then continued to a tour of the Strauss salad factory in Carmiel, which was given by a Strauss representative. The main objective of the factory tour was to demonstrate the practical implementation of the policies and standards the group had discussed in the seminar in Jerusalem, to enable them to see first hand the workings of such a major factory and of course to provide a platform for questions and answers.

The tour was very successful and the participants expressed their satisfaction with the activity. It is important to emphasize that the activity in question was not planned in advance as part of the project, but all involved agreed that it was essential to take into account the participants' feedback and hold a follow up session. The day helped to ensure that the lessons learned could be best implemented in order to enhance trade between Israel and the West Bank, something which is mutually beneficial to both sides.

We wish the best of luck to all the participants.

This project is made possible through the support of the Norwegian Embassy in Israel