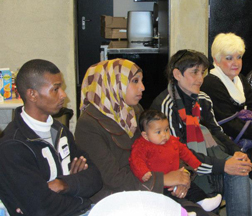 14th February 2013
Read the personal impressions of one of the parents who participated in the meeting.
Parents' involvement in the USAID Twinned Peace Sports Schools is a new initiative of the Peres Center's Sports Department, which was conceived as a way to bring together the parents of the girls participating in the program and give them the opportunity to undergo their own process of Israeli-Palestinian dialogue, similar to the one their girls are undergoing throughout the project year.
The first session was held at the Peres Peace House and was led by the Parents Circle Families Forum. The 50 parents watched the documentary 'Two Sides of the Story' which tackles the conflict from the angle of personal narratives and the suffering experienced by both sides. It encourages Israelis and Palestinians to develop empathy for each other without necessarily adopting a shared solution to the conflict. After the film the parents were split into two bi-national groups and discussions were professionally facilitated with simultaneous translation. Overall, parents were deeply moved and expressed a keen interest in continuing their dialogue and were determined that we continue our peacebuilding activities for their daughters. In the next two months the parents, guided by the Peres Center team, will take an active art in passing on the content of the project to their daughters.

We are very excited to integrate this new – and vital – aspect into the project. The parents are going to undergo a complex process, during which they will get to know the views and people on the 'other side' and learn more about what their daughters are feeling, something we are sure will serve to enrich the program.