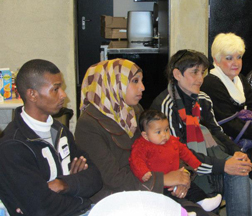 14th February 2013
The personal impressions of Yossi Tagori, the father of one of the girls participating in our USAID Twinned Peace Football Schools program, who attended a joint Israeli-Palestinian parent's meeting at the Peres Peace House:
"We arrived at sunset and everyone ran outside to be photographed against the background of this flaming sun ball that in a few minutes was going to fall into the horizon, like in those sweetened wedding film promos. And I was thinking that the last thing that would fit here is another nice wedding film that brings smiles to the guests' faces, that releases sighs of relief from both sides and maybe a few tears of happiness from the in-laws.
In the last twenty years the Palestinian-Israeli conflict has gone through a process of estrangement, from a main issue in the Israeli psyche, from the most significant gravitation field of the Israeli narrative, the conflict has turned into a marginal issue where nobody wants to go, into a negligible place all seek to evade, into a nuisance. If once the conflict burned like a campfire, and embodied a wide scope of ideological debates and ethical dilemmas, in recent years it is just like forgotten ashes that are buzzing around us, annoying road dust on the way from one mall to another.
Dust also rose and spread out over the field of view between us and them. If once there were people at both sides, life stories, names, eyes, faces and bodies to cling to, now all there is, is media spins passed on through plasma screens that are hanging on both sides of the wall. The conflict that once had scent, timbre and color, whose heartbeat and body heat you could feel, lost its spontaneous movement and street life to officials and politicians running it as a public investment company, exploring investment opportunities, control levers and maps of interest.

We were a group of Jewish and Palestinian parents whose daughters take part in a project of the Peres Center for Peace, including joint football games, informational activities and summer camps. The subject of the evening was getting to know the Parents Circle - Families Forum, a forum which binds both Palestinian and Jewish bereaved families who strive to find ways of communication and awareness between the parties. We saw the movie "Two Sided Story", a movie directed by Tor Ben Mayor, which follows the encounters of a group of Jews and a group of Palestinians. The meetings were charged; every man and woman brought their very private history to the meeting, the angle of their personal pain, and put them into the meeting's circles. It was as if the private truth was walking amongst the participants, sometimes rude, sometimes challenging, sometimes offended and most of the time heartbreaking. There was Tamer, a young Palestinian, blazing with anger, provocatively wearing a caffiah and turning his back on almost any possibility of dialogue. There was Ohad, a Jewish settler who would walk around with a gun peeping out from under his shirt. There were young widows, bereaved parents and brothers and sisters, who are mainly tired of any kind of political speech and converge in their personal grief. Towards the end of the movie there was a scene that struck me deeply, Palestinians and Jews were leading each other paired up, one of them with open eyes and the other with his eyes closed. And then Tamer, the same proud Palestinian who did not show any sign of gentleness and understanding of the other side, gently bends away the branch of a tree that stands in the way of Dan, an orthodox Jew who he is leading.
After the movie we too gathered in circles and talked, but not before we had a small break with refreshments. We talked about the movie, about what annoyed us and what touched us. There was place and time for everyone to speak, it was quiet when we talked, there was attention, we didn't always have answers and we didn't always agree, but there was closeness. For a while we could take off the glasses through which we are used to seeing the conflict and wear our neighbour's glasses, that tell a different story."