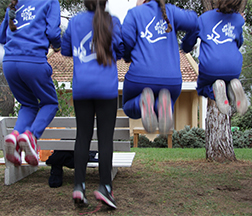 December 5-6, 2013
Upwards of 80 Israeli and Palestinian girls, Jewish and Arab, participated in an overnigt training camp in the framework of the Twinned Peace Soccer Schools project (TPSS).
The training camp took place at Kibbutz Galon, located in Southern Israel night. Over the two-day period, they enjoyed cultural activities, learned Arabic and Hebrew, ate together, got to know each other and, of course, played football according to the rules of FairPlay.
During the camp, the girls took part in a football tournament that was broadcasted live in Germany over Skype. Meanwhile, a parallel tournament took place in Germany, hosted by Kickfair, as part of the organization's long term relationship with the Peres Center for Peace.
The multi-national tournament, entitled Kick for Understanding, Play for Peace, presented an opportunity for the girls to meet the German children and for them all to ask each other questions over Skype. They were also able to observe the games being played in Germany in between their matches here in Israel, during which the girls played in mixed, bi-national groups representing countries all over the world.
Energy and excitement throughout the tournament was at an all-time high, as it is not every day that German, Palestinian and Israeli kids are able to participate in the same tournament, at the same time, in different places in the world.
The tournament served as evidence that the language of sports can bring children, and even nations, together.
We are grateful to Kickfair Germany for their rewarding partnership and look forward to future cooperation.
This project is supported by USAID.
For more pictures from the training camp, click here.