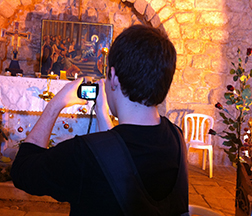 December 18, 2013

As part of the photography project "Eye Contact to the Youth," 14 Jewish and Arab teenagers from central Israel embarked on a special day of learning and enrichment in Nazareth.
Accompanied by the leaders of the project, photographic journalist Yuval Tebul and group facilitator Suheir Monayer, the participants set out from the Peres Center for Peace eager for the day ahead, which promised exciting activities and a change in the usual photographic scenery. The day began with a tour of the holy sites of Nazareth – the Basilica of the Annunciation, the White Mosque, the Synagogue Church, and Mary's Well, just below the Greek Orthodox Church of the Annunciation. The participants enjoyed detailed explanations about these sights and the history of the city, the content of which included exploration of the themes of tolerance and coexistence between peoples, cultures, religions, and human beings at large.
Throughout the day, the participants also had the opportunity to document the religious sights, the picturesque alleyways, the marketplaces and the streets, all from different angles.
Midday, the young travelers enjoyed an authentic lunch, and afterwards had some free time to explore Nazareth's famous Christmas Market.
Throughout the day's activities, the mixed group continued to form bonds and become increasingly close, illustrating that even photography can provide a common ground through which young people can relate with one another and overcome major differences.
The day trip ended happily, leaving its participants eager for their next meeting and their next trip!