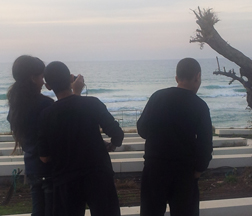 6th February 2013
We are hugely excited to announce the launch of a new photography project for Jewish and Arab kids from Jaffa and Kiryat Shalom.
12 6th grade Jewish and Arab children from the 'College from All' organization will take part in 16 photography classes taught by professional photographer Hisham Shavita. During the course they will learn how to use their cameras, photography terms, angles, working with light and more. In addition to the photography skills, they will get to know each other and learn to work together as a group.
During the first session the children met each other and their new teacher at the Peres Peace House. They received the cameras they will be working with and learned basic photography skills and terms, as well as how to take portrait and scenic photos.
At the end of the project a photography exhibition will be held at the Peres Peace House to showcase their work. Check back regularly to learn more.
We are hugely grateful to Boeing for supporting this programme.