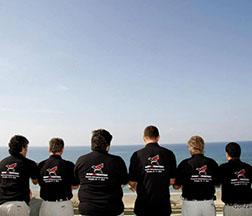 25th November 2012

Despite the difficult political situation, a 6 person delegation from the Argentinean organization Rugby Sin Fronteras (Rugby Without Borders) visited the region on a special mission. The delegation spent their week touring the length and breadth of the country, visited the West Bank and experienced the rugby scene in Israel.
The highlight of the trip for the visitors was a Rugby for Peace tournament which took place in Jerusalem on the 23rd of November, during which they participated in a trounament together with kids from our Twinned Peace Sports Schools in Yata, South Hebron, together with a team of male and female Israeli rugby players. During the activity the children were introduced to the game of rugby for the first time, trained with the professionals and had a chance to participate in a unique and empowering experience.
Despite the difficulties in holding such a complicated event during a difficult security situation, the joint efforts of all the people who truly believe in the path of peace bore fruit and resulted in a truly special day. A huge thank you - and gracias - to all our partners to this process who made the event happen. We hope to meet again under less difficult circumstances.

Watch a video of the event (in Spanish) below: