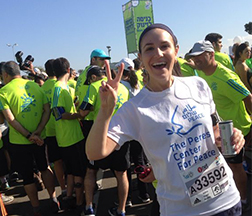 Feb 28th, 2014


The Peres Center for Peace team and supporters represented the center in a special and unique event – they all ran for peace as part of the Tel Aviv Marathon – Running for a Cause program.

The runners were devoted to spread out the word of peace and take part in our fundraising campaign by wearing the Peres Center for Peace T-shirt and by sharing photos and links throughout the social media networks.

Adina, who ran the 10km, was impressed by the huge number of Marathon participants (40k runners) and said:"It was a fantastic run and I was happy to represent the Peres Center for Peace! Throughout the run I was thinking about the cause behind my run – promoting lasting peace and advancement in the Middle East, bringing Jews and Arabs, Israelis and Palestinians together for a better and safer tomorrow. I am looking forward to my next challenge and the opportunity to promote the Peres Center again!"
We thank all of our supporters and especially the runners for a promoting a great cause and will be happy to see everyone in the next Marathon!