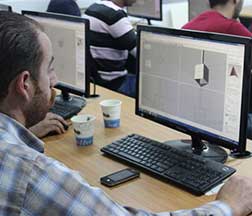 16th January 2013
20 Palestinian designers from the handicrafts and textile sectors have since last October been undertaking lessons at Ieading Israeli design college Shenkar, as part of the Private Sector Partnership project funded by the Norwegian Embassy in Israel; and the Partners in Business, Partners in Peace project funded by the European Union. During this period the students have benefitted hugely from the expertise of the professional staff at Shenkar, through a number of jam-packed lessons. Below is a description of a typical day on the course.


The lessons are given by an Israeli lecturer and are then translated into Arabic by a highly talented translator, who has to work very hard to keep up with the speed of the lessons! Today's lesson started – as with most lessons in the world – with checking the student's homework. A number of 'lucky' students were chosen to present their work to the class – which included a 3 dimensional rendering of a bicycle and a signet ring. Both the lecturer and the students were hugely impressed with the work on show.

Following the homework presentation, the teacher and translator together launched into a lesson on '3D lines', which is undertaken on a special 3D software programme. The students skillfully created a number of shapes using the programme, and then advanced to renderings of more complex objects and even faces.

Barely had the students gotten to grips with the programme, and the lecturer, together with the translator of course, launched into the next lesson, during which time the lecturer was also taught relevant words in Arabic. The lesson which included learning how to create a 'melting' cube using the 3D software, put both the technical and creative abilities of the students to the test. Despite the complexities, the students highly enjoyed themselves and benefitted greatly from the high standards of the lesson.

The day ended with the high energy with which it had started, with the lecturer - and translator - summarizing the lessons and ending with a 'see you next time'. The lessons are always held in a positive atmosphere of cooperation and goodwill. The students are eager to learn and the lecturers are very impressed with their abilities. Despite the language barriers all involved are benefitting from a fascinating and enjoyable dialogue. We wish them the best of luck!
For more photos see the Peres Center's facebook page.
This project is made possible through the support of the Norwegian Embassy
in Israel and the European Union Partnership for Peace Program.