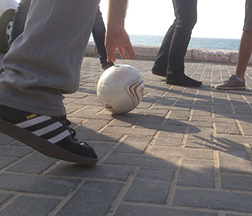 November 13th, 2013
A new and unique project that combines film and sport commenced just this month, and is comprised of six Israeli and Palestinian youths who will document their daily lives and everyday surroundings for a period of time in order to share with other participants in the Twinned Peace Sports Schools how life really looks on the other side of the wall.
The Sony Siakhona project aims to train three boys from Nablus and three boys and girls from Zichron Ya'akov, to use Sony cameras to document the lives of participants from the Twinned Peace Sports Schools program, and their surroundings, including family, friends, and even neighbors.
Using combined documentation composed of photographs and video clips, the teens will put together a presentation that will expose other children involved in the Twinned Peace Sports Schools project to the behind-the-scenes reality of life on "the other side."
After undergoing initial training at the Peres Center for Peace, the participants will engage in fieldwork in their respective communities.
The participants noted after the first encounter that they are excited to continue with the project, to complete the training and to document their communities, which participate in the TPSS program. When they heard that photographs from the project would be presented in the upcoming World Cup in Brazil, the level of excitement reached a new height.
This project is generously supported by SONY and FIFA and is implemented within the framework of the Football for Hope program.