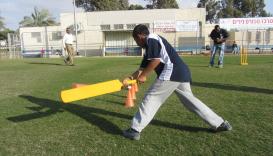 18th of April, 2013
One hundred Israeli and Palestinian children came together in Beer Sheva to participate in a Cricket 4 Peace project thanks to the Australian Embassy in Tel Aviv. The children, aged between 10-15 are from Yata, Samoa and in the West Bank, and Beer Sheva and Houra in Israel.
This was the first time they had all come together for a joint activity in almost a year. The afternoon began with a presentation of prizes to the winner and runner up of the International Cricket Association's recent creative writing competition. The Peres Center was very proud of two participants whose stories came first and second in the international competition.
The children were then broken up into four mixed groups and rotated around four different stations. At each station the children participated in a different activity, including two different cricket skill activities, an inter-language learning activity, and a station that taught Australian Football skills. The Australian Football station was led by two players, one Israeli and one Palestinian, in the Peres Center's Australian Football Peace Team project, which travelled to Australia in 2008 and 2011 to compete in an international competition.
All the children expressed how much they enjoyed learning about this new and unfamiliar sport. The children were also very excited to reunite and practice their cricket skills. After taking a short break and enjoying some refreshments, the children participated in a cricket tournament. They were divided into teams represented by different countries and played exceptionally. The afternoon was a great success and re-emphasized for all the coaches and staff what a fantastic and meaningful initiative the Cricket for Peace project is.
The children expressed how much they enjoyed seeing each other, playing together, and having the opportunity to learn more about each other. The Peres Center would like to thank the Australian Embassy representatives that came along and joined in the fun, their support is greatly appreciated.