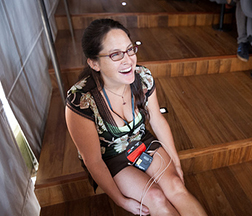 Octpber 10th, 2013
TEDxJaffa – The Body: An Interview with Lindsay Tauber, Lead Organizer of the 2013 TEDxJaffa Project
Tell us about yourself and how your relationship with TEDx came to be?

The idea to host a TEDx event in Jaffa began three years ago – a very good friend of mine, Alli Magidsohn, conceived of the idea and began organizing the first event at the East West House in Jaffa. Prior to the event, we discussed the idea often at our neighborhood bar and other social gatherings, and about a month before the event she realized that she couldn't put on such an event by herself, so I joined her in the production and it was an amazing event!
Last year we (Alli and I and a few other friends who joined the effort) held the event at the Peres Center for Peace, a wonderful host! The evening after the event, following half a year of hard work and a great deal of planning, Alli left Israel and went back to live in Los Angeles. About two weeks before she left, she asked if I would be interested in inheriting the event and stepping in as lead producer. I told her we had to continue the tradition. Beyond being super fun event, , TEDxJaffa had become a much anticipated event…. And that's how I got to this role.
My personal relationship with TED came from the fact that I actually never owned a TV at home. When I lived alone, I often found myself looking for "company" while eating dinner, and I searched for something to do – which lead me to TEDTalks. Since moving in with my husband, we still watch a lot of TEDTalks together in the evening hours, especially when we don't have the energy to talk after a long day of work… we eat, watch a talk and then go out with the dog and discuss what we learned. It's a great way to pass the evening!
Why did you choose to focus on the topic of the human body and soul for the conference? Where did this idea come from?

Honestly, Alli came up with it. During one of our phone conversations a little while after she left, she suggested the idea. It spoke to us both directly because we are so different physically – I am exaggeratedly short and Alli is very, very tall – and as a result of this difference we often talked about our bodies during the "girl talks" we had throughout our eight years of friendship. In light of our interest it the topice, I set it as the topic for this year's conference!
How were the speakers and the audience for the event chosen?

It's an interesting process. First off, I called together my team – a combination of good friends who I chose to work with and audience members from last year who really wanted to work with us – and we started brainstorming about the most interesting elements having to do with our bodies. We made a list of about 30-35 general topics. Afterwards, we brainstormed possible speakers, and we arrived at a list of 2-3 potential speakers we know already. Next, we did our homework: we investigated and searched on the Internet for professionals; we made phone calls; we explained how the process works and what could be expected – after all, the whole process is done on a volunteer basis – involving a great deal of time on behalf of the lecturers involving courses, writing, personal meetings, rehearsals, etc. Finally, we arrived at a respectable list of excellent speakers!
The audience selection was pretty random. We went to the public and spread the message through our website. Anyone interested in becoming a part of the audience filled out an application form telling us a few things about themselves,s so that the team could get an impression. At the end of the day, every member of the team rated those who applied, based on first impression, by how suited they were for the audience. Those who got the most points were invited. In fact, we set out based on the assumption that whoever actively applied was indeed interested in attending the event, and so we didn't feel the need to filter the applicants based on strict criteria, only to make sure that the number of people we accepted could fit in the auditorium.
Do you plan on continuing to produce similar events in the future? What about next year?
We're already thinking about next year… it was so rewarding that it looks like we'll do it again. At work I also organize events – of a different type, but similar in terms of the logistics involved – and two weeks before the TEDx event, Gilad (a member of the team and also my husband) and I produced a wedding by ourselves… so in general, event production really suits me. As for TEDx Jaffa next year, it looks like it's going to happen!
What message would you like to share with the general public?

I feel like our speakers shared a lot of food for thought on the subject of the body. Given the fact that we are inside our bodies at all times, there is a lot of room to think about it from a variety of aspects. I would love if people who weren't able to attend the actual event would watch our talks (which will be on our website within about a month) and respond to them, even if not as a part of a discussion, I am sure that there is a great deal to think about!
Where will you be in ten years?
I still don't know where I'll be but I know how I want to feel… I want to feel fulfillment like I feel after this event. I want to continue to feel that life is challenging me, although not too much, and I want to feel loved and in love, just like I feel today.