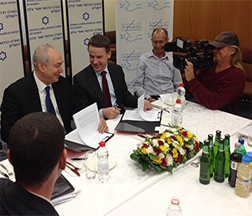 November 19, 2013

This month, the Peres Center for Peace signed a new contract with the Danish Ministry of Foreign Affairs, which represents the sixth phase of the "Medilink" project that provides Palestinian doctors with advanced training opportunities in Israeli hospitals.
This phase will focus on the training of 25-40 Palestinian medical personnel.

The official ceremony took place at Shaare Zedek Medical Center, which kindly opened its doors for this special event.

We were honored to host the Minister for Development Cooperation of Denmark, H.E. Christian Friis Bach, who signed the contract together with Chemi Peres, Chairman of the Peres Center's Board of Directors.

We were also privileged to host Ambassador Jesper Vahr, the Danish Ambassador to Israel at the event.

The Peres Center for Peace is thrilled to have the opportunity to continue the "Medilink" project and begin its sixth phase. The Peres Center is especially grateful for the generous support of the Danish Ministry of Foreign Affairs.
In addition to this Danish contribution, we give thanks to the European Union Partnershjp for Peace Program and the British Ministry of Forieghn Affairs, for their contribution to the 'Training Doctors' project.