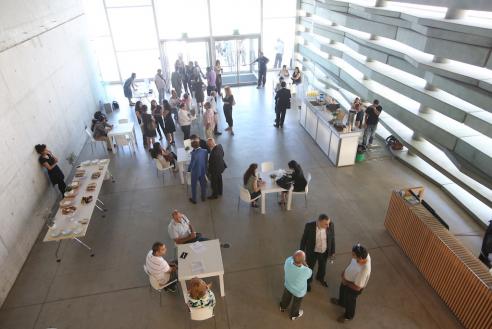 28th of May, 2013

A unique, trilateral (Israeli-Palestinian-Italian) B2B activity in the textiles, leather and shoes sector, took place at the Peres Peace House as a part of the "Partners in Business, Partners in Peace" project.


The day began with a short conference which featured an important speech by the Chairman of the Palestine Textile and Garments Union. Following the conference, 10 Palestinian manufacturers from across the West Bank met with 40 Israeli and Italian designers/marketers/importers. The personal B2B meetings are set up in a "speed dating" format, aimed at bringing together businesspeople from all three sectors and countries in a non-formal manner with the aim of establishing business relations between them.


All the attendees found the event very beneficial and will follow up with their newly formed contacts in order to pursue business opportunities.
The "Partners in Business, Partners in Peace" project is supported by the European Union Partnership for Peace Program.