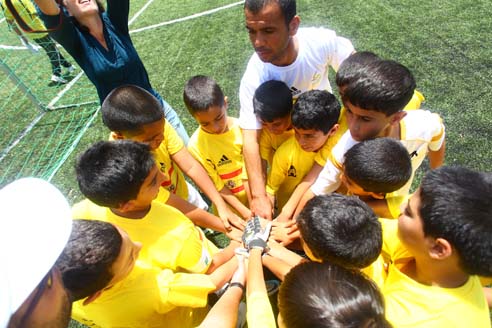 OUR MODEL - TWINNED PEACE SPORTS SCHOOLS
What is it?
Launched in 2002, the Twinned Peace Sport Schools program is the longest running coexistence sport project in the Middle East, annually engaging 1,500-2,000 children aged 4-18 from "twinned" communities across Israel and the Palestinian Authority.

How does it work?
The program fosters values of peace and coexistence amongst young Palestinians and Israelis by changing attitudes toward the 'other' and diffusing stereotypes. In locations across Israel, in both Jewish and Arab communities, and in Palestinian communities across the West Bank, the Peres Center and Palestinian partners establish Sport Schools, where children participate in bi-weekly after-school sports training, peace education activities and inter-language learning.
The children meet with their "twinned" school for monthly joint activities and other special events, playing in mixed teams, rather than against each other. The program is implemented from September to June (parallel to the school year) and new entrants are encouraged to continue participating in the program for a number of years in order to successfully foster a profound appreciation of peace and achieve other aims related to fitness improvement and self-development.
Sports activity:

The program provides a forum for the improvement of physical coordination and fitness; developing participants' physical, cognitive and social skills; fostering understanding and internalization of concepts of sportsmanship and teamwork; and increasing motivation, confidence and leadership skills. The program addresses an acute need in the participating communities, which offer very limited after-school activities and suffer from a chronic lack of sport and recreational facilities. Various sports are offered to boys and girls, such as football, basketball, cricket and others.
Peace education activities: Using informal educational tools and games, values of tolerance, coexistence, mutual understanding, respect and team work are imparted to the children. They learn about each other's cultures, religions, and traditions in a fun, informal educational environment that is incorporated into each joint activity. Activities are designed to break down barriers and stereotypes between participants, and develop trust and group cohesion.

Inter-language learning:

This component of the program makes a significant difference to the children's ability to communicate with each other. The children learn the basics of Arabic or Hebrew, the language of "the other", in a specially designed joint inter-language learning program which uses vocabulary from the world of sport. While this is a very basic language course, the fact that all the children are facing this language challenge together helps to create a further level of partnership and cooperation between the two sides.