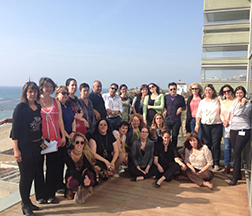 April, 2014

This month, as every month, we had the privilege to meet a lot of visitors and host different groups at the Peres Peace House.

Among them was a group of high school students from Germany and Be'er Tuvia which was exposed to our daily work and different challenges we are facing. It was inspiring to observe their unique way of spreading signs of peace.

Another group included representatives from the Ministry of Education's Community and Youth division which were exposed to our use of technology, sports, culture and the arts as Peace Education tools.

We were very excited to meet adidas volunteer's delegation from Germany and Israel, that joined our Peace Education department team for a week full of sports activities and volunteering work with the different communities which are involved in our projects.

It was exciting to meet and chat with dozens of visitors and share with them our experience, daily routine and vision.

We are looking forward to meet next months' groups and individuals here at the Peres Peace House.

Please click here for more photos.