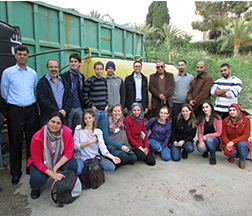 Dec. 4th, 2013

Graduate students and researchers from the Technion – Israel Institute of Technology, who are participating in our Sanofi-funded Regional Water Research Program, visited the Al-Quds University campus in Abu Dis last week for the first time since the beginning of the two-year program.
For the past year and a half, the Palestinian and Israeli research teams have been working together to investigate advanced methods for removing pharmaceuticals from treated wastewater, and they have met periodically to share results and ideas throughout the program. While members of the two teams had met previously at a conference in Cyprus, and some team members performed experiments together at the Technion, this was the first time the two teams met together at the university campus of the Palestinian research team in Abu Dis.
For the Technion participants, the visit was their first exposure to a Palestinian University, making it a particularly unique experience for them; As they explored the university campus together with the Al-Quds University researchers and students, Technion team members learned about the university firsthand from their research partners. The Israeli and Palestinian teams also toured Al-Quds' laboratories and experimental facilities together, during which they discussed research findings, equipment challenges and ideas for additional new and exciting research directions.
Overall, the warm reunion of the Israeli and Palestinian research partners at Al-Quds University exemplified what our Regional Water Research Program aims to accomplish; through mutually beneficial research collaborations, we hope to build bridges between the Israeli and Palestinian engineers of tomorrow. This program is generously supported by the international pharmaceutical company Sanofi.