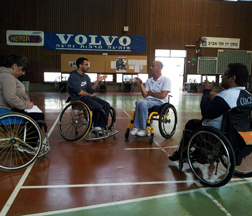 29th January
We are hugely proud to announce the launch of the fourth year of our Twinned Peace Wheelchair Basketball School, in cooperation with our great partners ILAN and the Lifegate Foundation in Beit Jalla. The project brings together disabled and able-bodied Israeli and Palestinian youth to play together as one.
The year of activities opened with a training seminar for the coaches, at which they had the opportunity to learn from leading coaches in the field and together build the curriculum and work plan for the year.
Following the seminar, the first activity of the year was attended by 20 young people from Rishon Le Tzion and Beit Jala. The players trained in mixed teams and perfected their basketball skills, with an amazingly positive atmosphere prevailing throughout. We wish all the players and coaches the best of luck in the upcoming year!