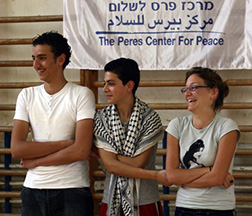 Founded in 1996 by the late 9th President of Israel and Nobel Peace Prize laureate Shimon Peres, the Peres Center for Peace is Israel's leading organization promoting peacebuilding between Israel and its neighbors (particularly between Israelis and Palestinians) as well as between Jewish and Arab citizens of Israel.

The Peres Center – a non-profit, non-governmental, non-political organization - develops and implements a wide range of projects involving thousands annually bringing together a diverse and multi-faceted spectrum of participants: Jews and Arabs, Israelis and Palestinians; old and young; women, men, children and youth; professionals and agents of change.
Programs are designed to empower the populations of this region to be actively engaged in peacebuilding in order to advance the creation of a real, effective and durable peace, and are implemented in four core fields:

By focusing on common interests, the Peres Center continues to successfully forge lasting partnerships. Barriers are broken down, fears are overcome, dialogues are conducted and friendships are formed, paving the way to a real and lasting peace between peoples.