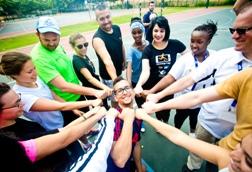 The Peres Center is Israel's leading non-profit, non-political, non-governmental organization focused on developing and implementing unique and cutting-edge peacebuilding programs in Innovation, Peace Education, Medicine, Business, and Environment, reaching tens of thousands of participants over the last 20 years. Founded in 1996 by the late Ninth President of Israel and Nobel Peace Prize laureate, Shimon Peres, the Peres Center for Peace and Innovation aims to realize his vision for a prosperous Israel within a peaceful Middle East.
Programs are developed and implemented together with local, regional, and international partners, bringing the best and brightest minds to the table, and aim to address challenges and needs in order to ensure positive and meaningful impact.
Program participants come from a diverse and multi-faceted spectrum, including: Jews and Arabs, Israelis and Palestinians; old and young; women, men, children and youth; professionals and agents of change. By focusing on common interests, the Peres Center continues to successfully forge lasting partnerships - barriers are broken down, fears are overcome, dialogues are conducted, and friendships are formed, paving the way to a real and lasting peace between peoples.