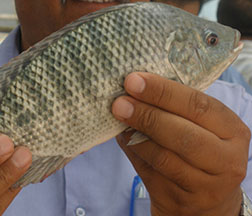 28-29 August, 2013
This month the Peres Center for Peace brought together more than 50 Palestinians, fish farmers, veterinarians, agricultural engineers and private investors, to take part and attend a two-day workshop that explored the economic factors and challenges of growing fish in small-scale intensive ponds in the West Bank.

The workshop touched on calculations of different farm cost scenarios, efficient farm management approaches that can reduce expenses, and the economic and environmental benefits of reusing the fish pond effluent for irrigating crops.

Lectures and discussions were led by experts from the Israeli aquaculture consulting group, Yama VaKedma, who have been working with Palestinian fish farmers for the past year and a half, through our Aquaculture Development Program.

We believe that professional knowledge-sharing programs are essential for establishing long-term business and professional relationships between Israeli and Palestinian fish growers and aquaculture industries.

Through the Aquaculture Development Program, we hope to continue establishing Israeli-Palestinian collaborations in this rapidly-growing sector.

This workshop is a part of the Peres Center for Peace "Aquaculture Development Program" project and is supported by the Pratt Foundation.