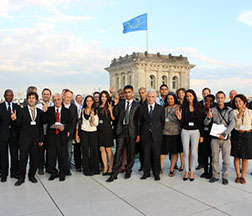 10th Sept 2012
18 members selected from the most active of the more than 165,000 YaLa-Young Leaders Facebook group from Israel, the Palestinian territories, Tunisia, Algeria, Lebanon, Egypt, Sudan, Iraq and Kuwait attended the first non-virtual meeting of Yala members in Berlin. Over an intense weekend the group discussed the future of the Yala-Young Leaders Movement aimed at meeting the needs of all members from all across the Middle East, North Africa and worldwide. Interestingly, most of the members of the group come from countries without diplomatic ties with Israel and so these meetings were truly (and sadly) a very rare occurrence.
The meeting followed on from a highly successful virtual meeting in January 2012, in which more than 40,000 young leaders (primarily from Egypt, Palestine, Jordan, Algeria, Israel, Turkey, Morocco, Tunisia, Iraq, Libya, Saudi Arabia, Lebanon, the United Arab Emirates, Kuwait, Qatar, Sudan, Syria, and Yemen) participated in YaLa's Online Peace and Economic Cooperation Conference and began the process of building YaLa's Agenda for the future.
The culmination of the conference was the YaLa MENA Initiative for Peace, issued collaboratively by all members of the group that represented their view of a peaceful Middle East. This was the first peace initiative of its kind formulated by the young generation and "aimed at expressing their needs and concerns, and offering an alternative trajectory which provides hope in place of despair, change in place of reaction, security in place of fear, freedom in place of oppression, equality in place of inequality, prosperity in the place of poverty and peace in the place of war and terror". For the full initiative see http://www.facebook.com/yalaYL/app_182667455607.


We wish these young leaders the best of luck in turning their dream of peace into a reality!