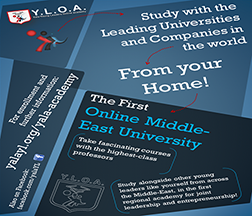 27th October 2012
The YaLa-Young Leaders facebook community began its enrolment process to an exciting initiative entitled YLO@ - YaLa's Online Academy Program. In partnership with leading international universities such as Princeton and the University of Michigan together with top companies such as Microsoft and HP, YLO@ plans to offer courses to its now over 200,000 YaLa members, primarily in Business & Technology, Regional Cooperation & Development and Modern Political Activism & Diplomacy. The courses will be run through the online learning platform 'Coursera', as well as more practical training from social media and hi-tech experts.
The enrolment process will see the acceptance of 300 students for YLO@'s pilot stage, starting at the beginning of 2013, and culminating in a regional summit in Aqaba in which a select group of YLO@ students (and young leaders) will participate.
Watch the video below for more information on the project and how to enrol or go to http://yalayl.org/yala-academy.
To join the Yala Young Leaders community on facebook go to http://www.facebook.com/yalaYL.