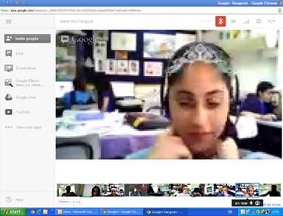 20th March 2013
We are delighted to announce the highly successful start of our Google Hanging Out for Peace program.

Following 3 training sessions held for the teachers and instructors, 14 Hangouts have taken place for the 120 Jewish and Arab 10th grade students taking part in the program. The students are divided into mixed Jewish-Arab groups known as 'circles', and under professional guidance from the teachers and instructors participate in discussions and tasks using the Google Hangout tool, which allows them to communicate online.
All involved have so far reported very a positive atmosphere prevailing throughout all the sessions, and that the youths have been cooperating and enjoying the experience.

In the first sessions the youths got to know the members of their circle, and were given tasks which they had to complete together. Language barriers were overcome by using the Google Translate tool, as well as Google Effects, which helped them to put across feelings which they weren't able to communicate verbally.

When the participants were asked about what their expectations of the programs were, there was a consensus that they were looking forward to having fun and making new friends with who they could eat pizza and talk to (though not about politics).

We are very excited about the continuation of this program - check back soon for more updates.