Nadav Tamir, Senior Advisor for Governmental and International Affairs

A different perspective on the Israeli - Palestinian conflict 
This article is the first in a three-part series
I met Issa Kassissieh for the first time in 2003 at Harvard's Kennedy School of Government. I had just begun my Master's in Public Administration, thanks to a generous fellowship from the Wexner Foundation, and Issa was a Mason Fellow.
This meeting with Issa, and the relationship we developed, was among the most significant experiences in a year packed to the brim with significant experiences.
It was quite absurd that we met for the first time in Cambridge MA, considering we lived and worked in close proximity to each other in Jerusalem for many years without ever knowing it. Issa is a Palestinian patriot who had worked to promote the self-determination of the Palestinians as an advisor to the late Faysal Husseini and, later, to the Palestinian President Mahmoud Abbas. I am a diehard Zionist, an Israeli diplomat, and served as an advisor to the late Shimon Peres when he was Foreign Minister and later when he was President of Israel. Together Issa and I learned the power of the joint problem-solving approach.
We became friends, but also "study buddies" because we had the same interests and took many of the same courses. We learned about each other and about the complexity of the Israeli-Palestinian conflict through our personal relationship. We sat next to each other in our "Adaptive Leadership" class and practiced "crossing boundaries" and "getting out of our comfort zones" in our personal friendship in a way that mirrored many of the same elements present in the greater geo-politics of our two nations.
My Israeli friends and I were debating whether or not we should do a presentation about Israel in our "Mid-Career" seminar, a weekly gathering of the entire cohort for a student presentation. As a diplomat, I was quite comfortable with the idea of presenting my country in front of my peers, but Issa suggested that we could do a presentation together about the Israeli Palestinian conflict instead—not exactly my comfort zone.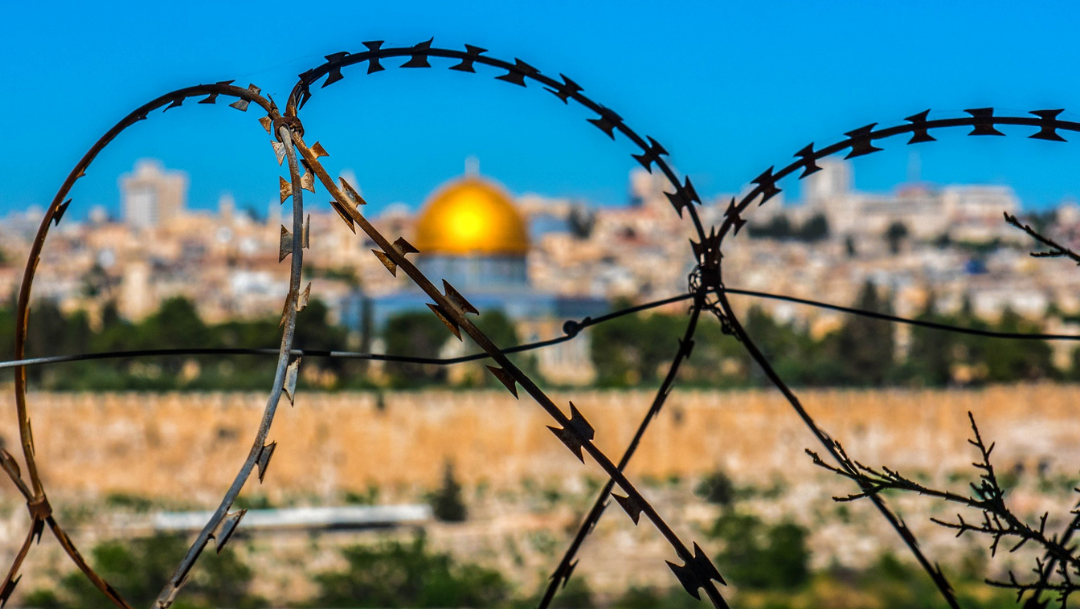 I was worried that it would become another confrontational debate such as most of the encounters I heard of between Israelis and Palestinians on campuses. I wanted to avoid the "blame game" which I considered classic "work avoidance". More than anything, I was worried that it would hurt my friendship with Issa. After bringing up my concerns to Issa, we decided we'd do it differently. We'd use this as an opportunity to implement a lesson of reframing, a technique we learned in our Leadership class. We decided to reframe the conflict in our presentation from one between Israelis and Palestinians to one between those who seek a peaceful solution and those who were against it. This reframing positioned us on the same side, even though we had very different perspectives and narratives based on our national belongings and past experiences.
The "Adaptive Challenge" that we identified was how moderates on both sides of the conflict can empower each other in order to promote a solution. Issa explained that if we will not empower the moderate Palestinians, we will remain only with the extremists who believe in terror. Issa was cognizant of the fact that Palestinian terror crushed the Israeli peace camp and understood how immoral and counterproductive it was to the Palestinian cause.
Our presentation became very popular and we quickly began receiving requests to co-present in Jewish communities around Boston. For many of the Jews who turned out for these events, it was the first time they ever met a Palestinian or saw the human side of the so called "Other." Issa presented the Palestinian case in a very effective and assertive manner, but not in a confrontational approach, which made his arguments accessible to the ears of Jewish audiences.
Later, in a workshop about integrative negotiations, Issa and I learned about the Joint Problem-Solving approach, which required that we both face the problem rather than confront each other. We learned about the power of a Win-Win approach that was so contrary to the zero-sum mentality all too prevalent among Israelis and Palestinians.
Nadav Tamir is The Peres Center's senior advisor for governmental and international affairs and former personal adviser of Shimon Peres for diplomatic affairs.