Leeon Boujo – Head of Sports in the Service of Peace Programs, Education Department, Peres Center for Peace & Innovation
How to promote peace education through sports during a country-wide lockdown
Sport is an excellent educational tool. It teaches us about mutual respect, cooperation and the importance of working as a team. Playing sport means taking responsibility and leading by personal example. More than perhaps anything else though, sport is a common, universal language that we can all speak - whether our mother tongue is Hebrew or Arabic. As such, sport is a vital building block towards developing peaceful relationships.
At the Peres Center for Peace & Innovation, this is something we have long understood. Sports programs unite children and youth from different cultures, religions and backgrounds, impacting not only the participants, but their families and their communities as well. Initiatives such as Twinned Peace Sports Schools and Playing Fair bring Israeli and Palestinian boys and girls together to educate them on the values of peace, while enjoying football. By 'twinning' Jewish and Arab as well as Israeli and Palestinian communities together, these young people play and learn as one team.
However, the coronavirus crisis has affected the reality of us all. Social gatherings, routine, stability - things we took for granted – are suddenly not possible. This change is difficult for us all, but all the more so for children, who so often rely on familiarity and routine. This is one reason why it was important for us to make sure that our educational sports programs continue to operate and engage the children who take part in them. We also believe that the values they are learning and the experience of interacting with one another, simply has to continue.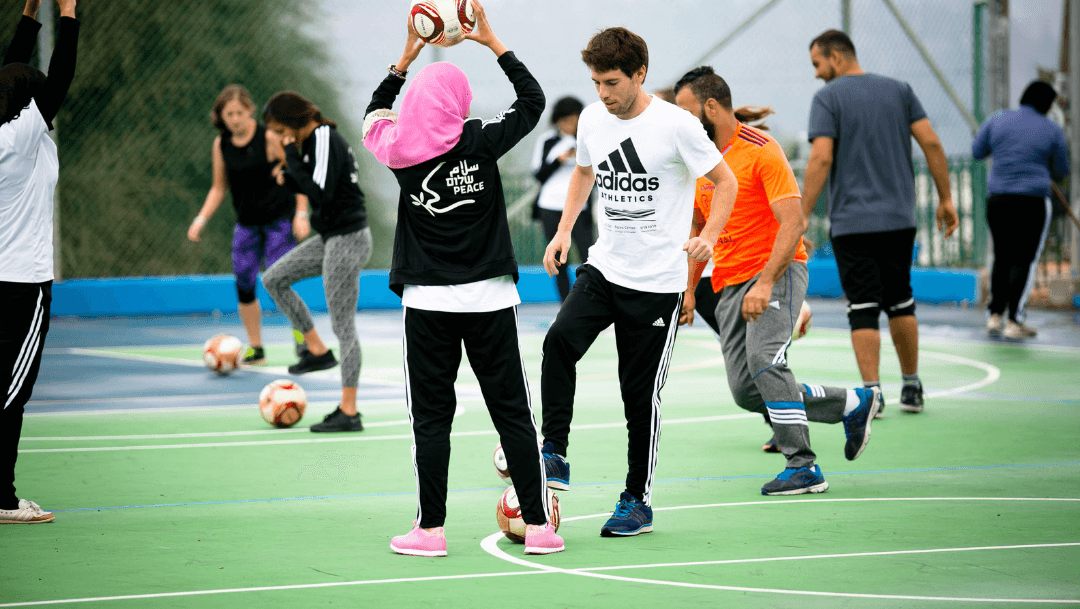 However, taking a sports-based program which has face-to-face activity at its core, and turning it into an online program required creative, outside the box thinking. We have basically dismantled our plans and rebuilt them, while maintaining the core values ​​and the goals they seek to achieve.
Working together with our field team – the coaches and young leaders who work with hundreds of boys and girls throughout Israel and the Palestinian territories - we have developed engaging and exciting online programming. The idea was to make sure that we continue to talk about the values at the heart ​​of what we do, bring the children together (virtually) and do so while continuing to use the skills and language of the world of football so beloved by these young people.
The results so far have been heartwarming. Children have participated enthusiastically in our online 'league'. Divided into cross-community teams, they have been challenged to complete football-related tasks. Some of these have involved core football skills, such as keeping the ball in the air as long as possible. Others involve educating on diversity, using Israel's national football team as an example, as it encompasses players from a wide variety of religions, communities and backgrounds. At all times, the participants are encouraged to continue to practice their language skills and deepen the connection between them. Perhaps the most striking aspect of the re-modelled program so far, has been the care that Israeli and Palestinian children have shown for one another amid the pandemic. Having met frequently, they want to know how each other is dealing with day-to-day life.
There is no doubt that the corona virus has brought tremendous challenges and exacted a very heavy price on the entire world. However, part of the ethos of the Peres Center for Peace & Innovation is our belief that in any situation we must look for the positive. For example, the routine of physical meetings between participants was both challenging and required a lot of resources. Although online meetings are not a direct substitute, they can take place much more often. Therefore, meetings between the field staff and the children have tripled during this period.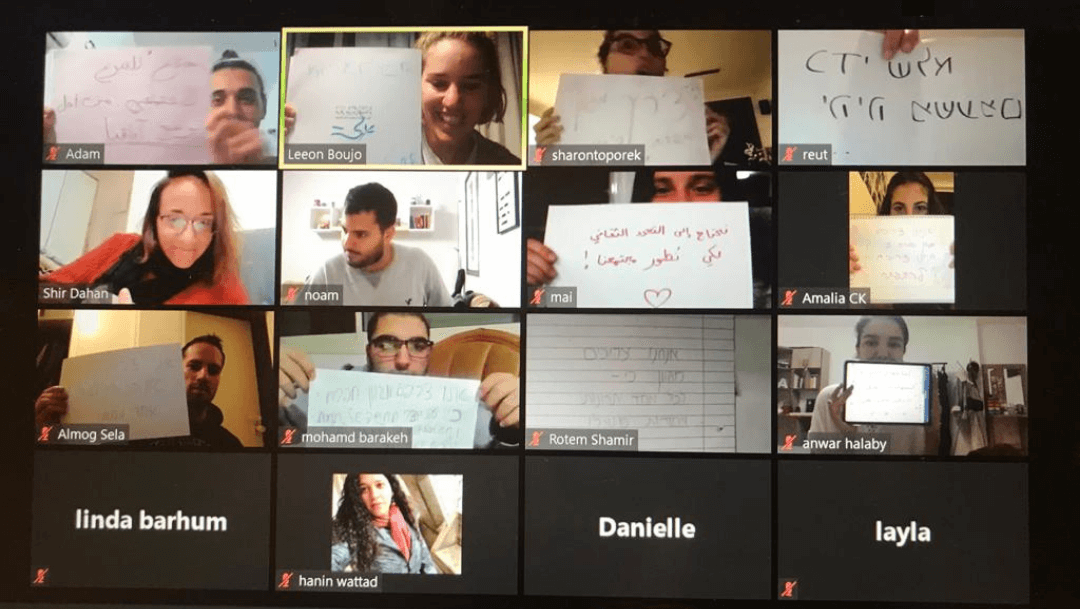 In addition, the online format has allowed us to expand our circle and reach many more people. For example, the annual Mini-Mundial (Mini World Cup) event which usually brings together around one thousand Israeli and Palestinian children, will this year be a virtual event next month.  It will combine an international online sport and peace conference with a grassroots online campaign. As such, it will allow the Mini-Mundial to reach many more people than usual, with people from all over the world taking part to learn about sports as a tool for promoting peace.
Perhaps the most important thing that coronavirus has done is to make us all realize that we are in this together. The virus is global and in order to defeat it, we will have to join hands and work as one. Mutual respect is essential. This is the core message of our programs and coronavirus has highlighted its importance more than ever. Thankfully, it remains at the heart of our sports programming, as the young participants continue to show how much concern, interest and care they have for one another.
Leeon Boujo is part of the Education Department of the Peres Center for Peace and Innovation, which also uses sports-related project to promote peace education for children.